Congrats on the new gTLDs!
Congrats to all parties involved on the roll out of the new gTLDs!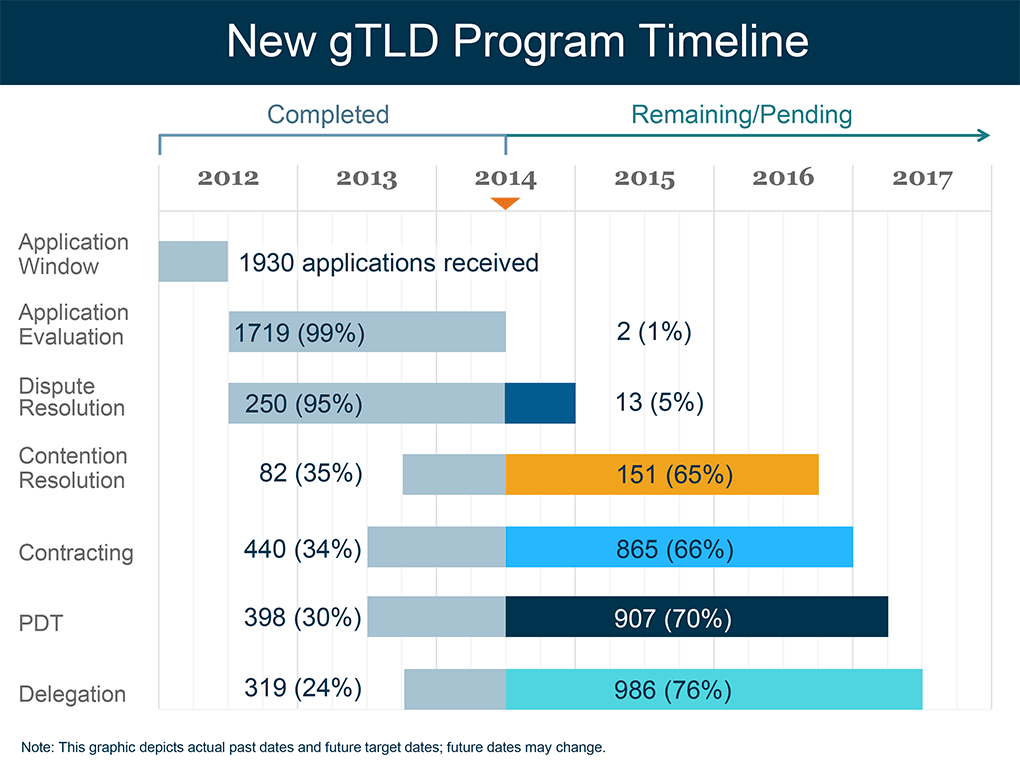 ICANN Timeline of New gTLDs
The new gTLDs made terms such as, "sunrise," and "landrush," mainstream, and they still are confusing to me. That is why I appreciate charts, like the one, above. There was a time it seemed new gTLDs might never be released. Public comments, objections, delays, glitches, contentions, disputes, and auctions were in the news, and the release dates kept getting extended. Wikipedia recaps some events surrounding launch of new gTLDs:
Mid 2011, ICANN voted to end restrictions on gTLDs.
Headline>>
World braces for domain name EXPLOSION
ICANN approves dot-everything – the Register
Jan 2012 first application window opened.
April 2012 the first application window was supposed to close, but there was a glitch that allowed applicants to view eachothers' data, so it was reopened in May 21st – May 30th.
June 2012 Reveal Day, "it was announced that ICANN received about 1,930 applications for new gTLD's, 751 of which were contested." – Wikipedia
June 2013 was the date new gTLDs were expected to go live, but they didn't. Only non-Latin.
Congrats to actually making it happen, new gTLDers!
It is an achievement that new gtlds are available.
Instra has a good table of new gTLDs under general availability, as of December 2014. Notice the date of general availability under each, "open," button, on the right:


Click to load the Instra page. It's nice each extension on the Instra page links to a description page that lists the extension, its Registry (Donuts, Neustar, UniRegistry) and its requirements, such as a Berlin address for dot Berlin.
Mike Berkens of theDomains pointed out a funny quote from Rod Beckstrom's farewell speech where Mr. Beckstrom boasted his accomplishment that:

When I came, ICANN had $57 million of funds under management.
Today, $444 million! We have seen real growth.
(Start at 17:20) The $180,000 application fees per new gTLD, paid by Registries eager run one or more new gTLD, combined to equal $350 million. Mike Berkens of theDomains pointed out the $350 million was to be set aside as processing expense for the new gTLDs! To consider the $350 million as a windfall of generally available funds is mis-characterization. Therefore, Rod Beckstrom made a funny boast in an otherwise enlightening speech. Thanx, @ Mike Berkens of theDomains, for the amusing anecdote!
See what fantastic startup website uses a new gTLD extension on my next post, Domain Using new gTLD for Emerging Tech!!
References
Complete Videos of Speeches Made by Incoming and Outgoing ICANN CEOs Today in Prague
- DNJournal
New Top Level Domains
- Wikipedia
New gTLD Program Timeline
- ICANN
Instra Corporation Chart for General Availability